Every blogger wants more readers. That's exactly why every blogger needs to know about search engine optimization (SEO). By optimizing your site for search engines, you can improve your ranking in search results. This can help draw new traffic from the readers who are already typing search terms related to what you write. In other words, if you put in the effort today to strategize about SEO-friendly content creation, you can draw visitors who are already interested in your subject area.
So, how can you as a WordPress blogger improve your SEO? To help answer this question, here's a basic checklist of essential tips for optimizing your WordPress blog!
Checklist Of SEO:
1. Start With Your Website Structure and Design (SEO Tips)
Step one for creating an SEO-friendly WordPress blog is site design. Even before you write new posts and pages to attract traffic, you need a design that will optimize that content in certain ways.
Choose a good web host. Because speed is an important ranking factor for Google, choose a web host that will make your site load quickly. Do your research, read reviews online, and look for a provider that will empower your site to be as fast as possible.
Choose an SEO-optimized theme. There is no shortage of available WordPress themes on the Internet today, both free vs premium WordPress themes. When you're sifting through possibilities, however, be sure to look for an option with Search Engine Optimization. The best theme will be one that makes your site load quickly with neat, clean coding that communicates easily with search engines.
Set permalinks. WordPress allows you to easily and quickly set the permalinks for your site so that all new posts and pages default to a particular URL structure. This way, you can title your content with relevant keywords and have them automatically appear in the corresponding web links. To implement this tip, from your blog dashboard, go to "Settings -> Permalinks." From there, choose the option to set URLs to post names (i.e., /%postname%/).
Generate a sitemap. The more content you create on your blog, the more pages it has available for search engines to find (and the more opportunities for traffic). You can make it easier for search engines to find all your content by using a plugin such as Google Sitemap Generator, which automatically generates a sitemap for you. See The Top SEO Site For TemplateTrip.
2. Use SEO Plugins (SEO Tips)
One of the best features of WordPress is access to numerous WordPress Search Engine Optimization plugins with all kinds of functionalities, including Search Engine Optimization. To ensure your content performs as well as it should, use plugins that remind you to add meta titles, meta descriptions, meta tags, keywords, etc. Here are a few examples worth checking out:
3. Optimize Media (SEO Tips)
Every good website incorporates images — and usually lots of them — to draw visitors' attention today. The problem? Search engines don't look at images the way people do, and they will have a hard time knowing what the image shows unless you tell them. Always optimize an image's title, caption, alt text, and description to include keywords. This alone can improve your blog's search engine rankings over time.
4. Create Quality Content (SEO Tips)
High-quality content is a necessity for better search rankings. Why? Content is what contains the keywords that people may be searching for online. It's what communicates with readers and search engines. That's why, today, there's no way around it, you have to build lots of high-quality content to achieve higher search placement.
Here are a few of the characteristics defining good content that search engines like:
Originality. Generally, search engines reward unique content and penalize duplications. That means, if you steal someone else's writing and try to pass it off as your own, you won't benefit. Quoting someone is fine; copying another website is not.
Helpfulness. The more useful your content, the more authoritative it becomes. What determines its usefulness? Aim for posts that will keep readers on your site and encourage them to share with friends. Some good examples are how-to posts, informative lists, case studies, etc.
Organization. Heading tags are more than a way to make your text scannable for readers. They're also important for showing search engines a hierarchy of importance. Use H1 tags for page titles, H2s for subheadings below the H1 tags, H3s for subheadings below the H2 tags, etc.
Social media is not only good for building community, but it's also beneficial for Search Engine Optimization at least if you know how to use it. For this reason, a best practice for search optimization today is to include sharing buttons on your posts. This encourages readers to promote your content to others, which not only expands your reach but also builds credibility for your blog to search engines.
6. Practice Good Internal Linking (SEO Tips)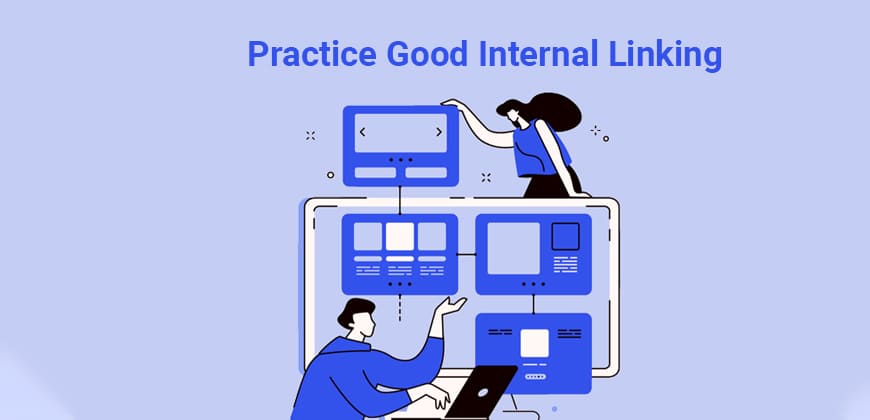 When an old post you've written relates to a new one, it's helpful for your reader when you link to it. This practice — linking to your site on your site — is called internal linking. It's good for Search Engine Optimization for a few reasons: First, it's relevant for the user. Typically, anything that makes your site more useful and helpful to the reader will be good for SEO. Second, it connects content with other posts, showing search engines how different pages may relate. Content that is linked from multiple pages of your site, for example, may be deemed more beneficial and authoritative.
To make it easier to practice good internal linking, some SEO plugins, such as the paid version of Yoast SEO, offer suggested internal links based on relevance to new posts. These plugins can be helpful, just avoid those that insert links automatically — creating spammy anchor text, slower site speed, and reduced overall quality for the reader.
When it comes to SEO, there are many small, simple ways you can improve rankings. So, follow the six-step checklist above to get started. Make these practices your habit, and build a better, more SEO-optimized WordPress blog as a result!
Author bio: Shanna Mallon is a senior copywriter for Straight North, a leading Internet marketing agency in Chicago providing specialized SEO, web development and other online marketing services. She's also been a freelance writer since 2007.