Are you looking to start an online shop but don't know where to begin? Look no further than PrestaShop, a free and open-source e-commerce solution that allows you to create and manage an online store with ease. In this guide, we'll walk you through the steps to create an online shop with PrestaShop.
Step 1: Choose a Hosting Provider and Install PrestaShop
The first step in creating an online shop with PrestaShop is to choose a hosting provider and install the software. There are many hosting providers available, but we recommend choosing one that specializes in e-commerce hosting to ensure that your website is secure and fast. Once you've chosen a hosting provider, you can use their one-click installer to install PrestaShop.
Step 2: Set Up Your Store
After installing PrestaShop, you'll need to set up your store. This includes adding product categories, setting up payment and shipping options, and customizing your store's design. PrestaShop comes with many built-in themes that you can use, or you can create your own custom theme to give your store a unique look and feel.
Step 3: Add Products
With your store set up, it's time to start adding products. PrestaShop makes it easy to add products to your store with its user-friendly interface. You can add product descriptions, images, and pricing information, and organize your products into categories to make them easy to find.
Step 4: Market Your Store
Once you've added your products, it's time to start marketing your store. PrestaShop comes with built-in SEO features that allow you to optimize your store for search engines. You can also integrate your store with social media platforms like Facebook and Instagram to reach a wider audience.
Step 5: Manage Your Store
After your store is up and running, you'll need to manage it to ensure that it runs smoothly. This includes fulfilling orders, managing customer inquiries, and updating your store with new products and promotions. PrestaShop makes it easy to manage your store with its user-friendly back-end interface.
Website development is something more than launching a digital platform. However, you do not always need complicated coding skills to design a website. PrestaShop Themes has made it easy for you to build your online store from the user-friendly dashboard. You can create your eCommerce shop using PrestaShop.
Guide to installing your PrestaShop theme
Access your admin panel. Go to Preferences and then Themes. You can add a button for a new theme.
Hit the Add file button and choose the unzipped template package.
Access the theme installation folder and open the theme .zip file
Click the Save option
It will start the uploading process, and you will find a message indicating it. The theme preview will be available in the installed theme list. To apply the theme, you can move your cursor over it.

The screen will display some module-related information. You can turn on and turn off a few modules. Save your settings.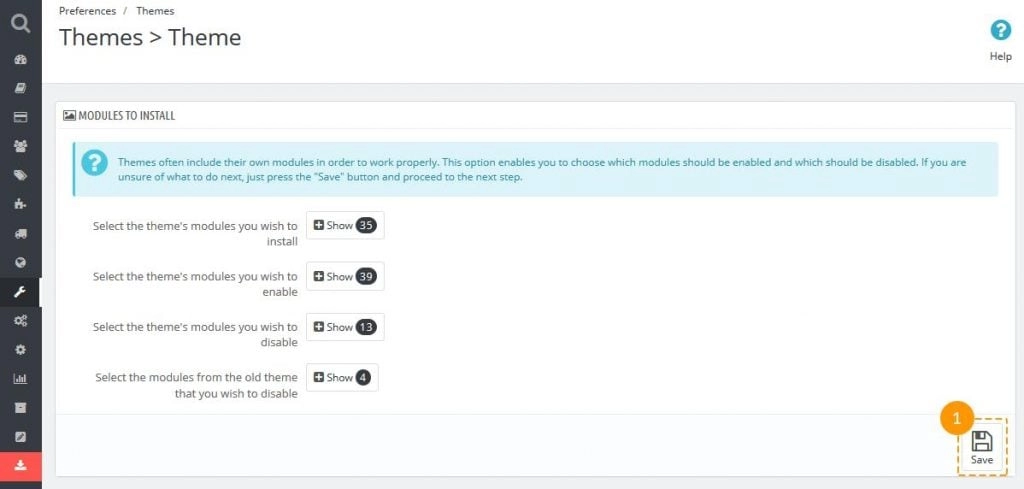 Then, you will find a message saying that the theme is activated successfully. Your images will also undergo regeneration. Then, to accomplish the installation process, you have to hit the Finish button.
Guide to installing sample data
For the sample data installation, you have to use the Sample data installer module. From your admin panel, you will find the module of the Sample data installer. With a few steps, you can install your sample data-
From your dashboard, you will find the option Install Demo Store. Then, choose the data files for uploading it.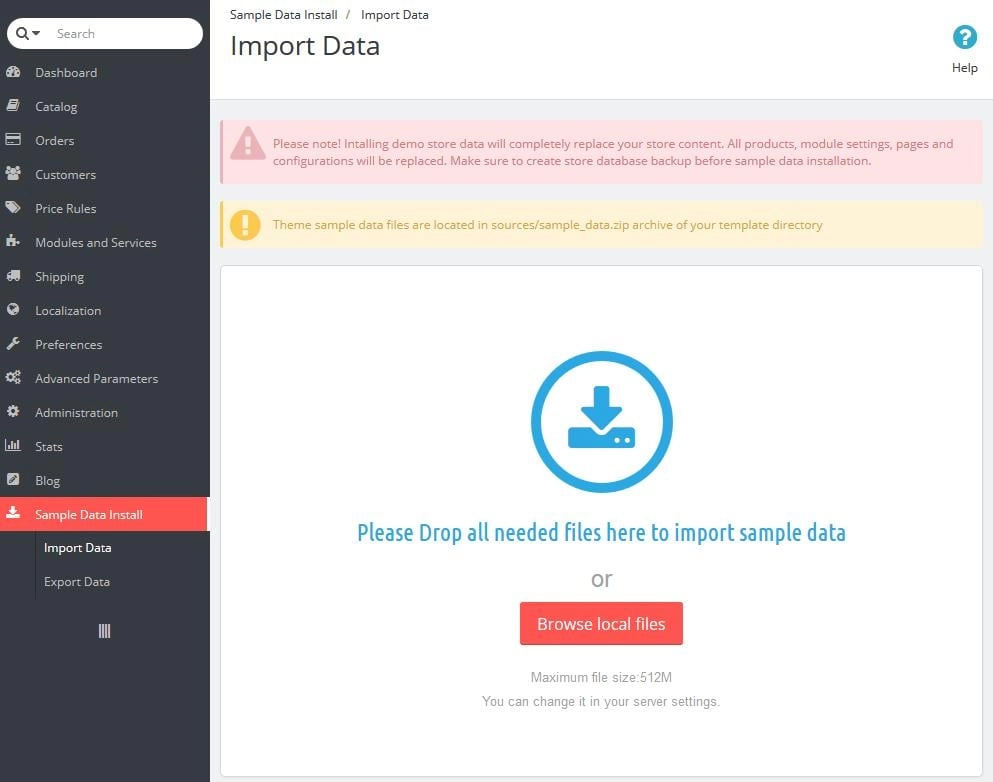 Use the Browse Local File buttons. Drag Files to your window and let the files get uploaded.
3. Hit the button- Continue Install.
There will be an automatic configuration of your store using the Sample data installer. But, it may take much time to accomplish the process. After the successful installation of the sample data, you can regenerate the page.
Installation and configuration of images
In every template, there are some module settings. You can configure those modules using your PrestaShop dashboard. Choose the option- Modules and Services from the menu. The Modules page has several PrestaShop modules. Install any of them by clicking on the Install button.
PrestaShop also provides you with predefined dimensions for images. It may be category images and product images. Large dimensions can be for the main product image. Then, to adjust the product image dimension, you have to go to your admin panel and find the Image button from the Preferences section.
Configuring your digital store details
Open the admin panel. Click on Preferences and choose the Store Contacts option. This section will display a number of stores. You may delete and add stores.
You may adjust your settings from the Parameter section. The main store information is adjustable from the Contact Details Block. For instance, you can edit your store name and contact details. Click on the Save option. To manage the information of one store, you have to go to Store Contacts.
Steps for editing the PrestaShop website slides
You need to go to the homepage module to access the Image Slider. The services menu tab is also accessible from the PrestaShop store. Then, click on the Configure button for editing the module. From the screen, you can find different slider properties, like the autoplay option and image width. Choose the + sign to add any slide.
Managing the theme configuration module
To manage the theme-related things, you have to choose the theme configurator module. It helps in adjusting features, like the top banners, payment logos, and social sharing buttons. Most importantly, you can add images to your homepage.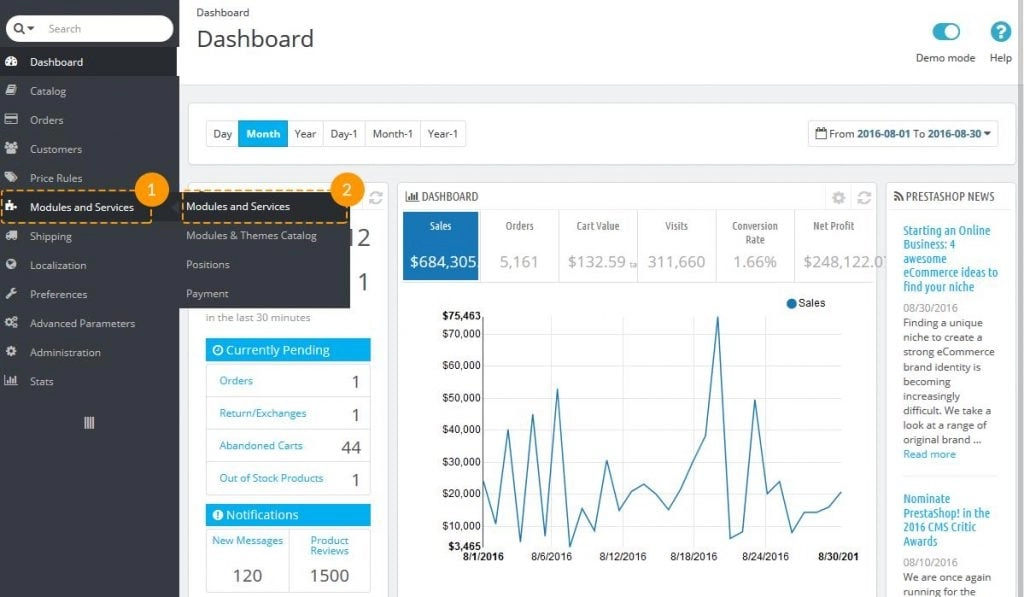 Payment gateway setup
You need to go to the Payment section to choose Payment Methods. The top section of the screen shows some payment methods available to customers. You may also add more to the list.
The active payment gateways will be automatically available to your website visitors.
The basic details will help you in developing your PrestaShop store. Check the PrestaShop themes and start creating the store. Make your eCommerce store attractive and draw several customers to it with a successful marketing campaign. You can create a safe store with PrestaShop.